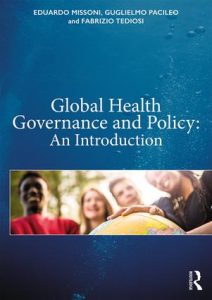 Global Health Governance and Policy outlines the fundamentals of global health, a key element of sustainable development. Taking an interdisciplinary approach, it explores the relationship between the globalization process and global health's social, political, economic and environmental determinants. It points the attention to the actors and forces that shape global policies and actions with an impact on peoples' health in an increasingly complex global governance context. Topics discussed include:
The relationship between globalization and the determinants of health
The essentials of global health measurements
The evolution of public health strategies in the context of the global development agenda
The actors and influencers of global health governance
The role of health systems
The dynamics and mechanisms of global health financing and Development Assistance for Health
Career opportunities in global health governance, management and policy
Looking in depth at some of the more significant links between neoliberal globalization, global policies and health, Global Health Governance and Policy: An Introduction discusses some specific health issues of global relevance such as changes in the ecosystem, epidemics and the spread of infectious diseases, the global transformation of the food system, the tobacco epidemic, human migration, macroeconomic processes and global financial crisis, trade and access to health services, drugs and vaccines, and eHealth and the global "health 4.0" challenge.
Written by a team of experienced practitioners, scientists and teachers, this textbook is ideal for students of all levels and professionals in a variety of disciplines with an interest in global health.